Saturday, March 31, 2007
Excuse For More Death and Destruction - Imperial Conquest
Bush calls capture of U.K. sailors 'inexcusable'
Ahmadinejad rips U.K. for not following 'legal, logical way' to resolve issue
MSNBC News Services
Updated: 6:47 p.m. CT March 31, 2007
TEHRAN, Iran - President Bush said Saturday that Iran's detention of 15 British sailors was "inexcusable" and that Tehran must release them immediately.
"The British hostage issue is serious because the Iranians took these people out of Iraqi water. It's inexcusable behavior. I strongly support the Blair government's attempts to resolve this peacefully," he said, referring to British Prime Minister Tony Blair.
Meanwhile, Iran's president said on Saturday the British government was not following "the legal and logical way" of resolving the dispute over the British naval personnel detained last week, state radio said.
"After the arrest of these people, the British government, instead of apologizing and expressing regret, over the action taken, started to claim that we are in their debt and shouted in different international councils," President Mahmoud Ahmadinejad was quoted as saying by the state radio report. "But this is not the legal and logical way for this issue."
Earlier, Britain said it was concerned at Iranian "saber-rattling" about possibly putting captured British naval personnel on trial and for the first time voiced regret the incident had occurred.
Iran's ambassador to Moscow said the 15 Britons captured eight days ago could face punishment if found guilty of illegally entering the Islamic Republic's territorial waters.
Britain insists the sailors were seized in Iraqi waters and Foreign Secretary Margaret Beckett said she was worried by such talk.
"Obviously, I am concerned. It is not the first person to have made saber-rattling noises," she told reporters after a European Union foreign ministers' meeting in Germany.
"The message I want to send is I think everyone regrets that this position has arisen. What we want is a way out of it."
| | |
| --- | --- |
| | FREE VIDEO |
•

Any end in sight?

March 31: MSNBC's Contessa Brewer talks with retired Col. Jack Jacobs on options for ending the standoff.

MSNBC
Beckett said Britain had sent Iran a written reply to its diplomatic note on the detention of the sailors and had so far received no response.
Iran seized the sailors and marines in the northern Gulf on March 23 when they were on a U.N.-backed mission searching for smugglers. Tehran says they strayed into Iranian waters but Britain insists they were well in Iraqi territory.
The crisis, at a time of heightened Middle East tensions over Iran's nuclear ambitions, has helped push oil prices to six-month highs over concerns an escalation might cut oil exports from the region.
More confusion
There were more confusing signals about Iran's intentions.
Iran's Moscow ambassador, Gholamreza Ansari, said in an interview broadcast by Vesti-24 television on Friday, according to a Reuters translation from the original Farsi: "If there is no guilt they will be freed but the legal process is going on and has to be completed and if they are found guilty they will face the punishment."
It was not clear on what authority he was speaking and IRNA said on Saturday Ansari had denied making the comments.
Foreign Minister Manouchehr Mottaki said Sunday that Iran was considering charging the sailors with illegally entering its waters.
Iran's Foreign Ministry delivered a letter to Britain's embassy in Tehran on Thursday, the first written communication between the two capitals since the crisis began.
The IRNA news agency said the Iranian message asked for "necessary guarantees that violations against Iranian waters would not be repeated."
Beckett said: "We have made our response and we are now beginning to discuss. As you may know it's a holiday period in Iran and it's perhaps not too helpful."
The Iranian government is largely shut down for the two-week Nowruz holiday, a pre-Islamic Persian new year, which began on March 21 and ends next Tuesday.
'Corruption nest of the British old devil'
EU foreign policy chief Javier Solana was mandated on Friday by the 27-nation bloc's foreign ministers to seek the Britons' immediate release. He said he had not yet been able to speak to Iranian leaders but his staff had made first contacts.
Student members of the Basij religious militia from across Iran issued a statement on Saturday demanding the British embassy in Tehran be closed down, calling it the "corruption nest of the British old devil," IRNA said.
They also invited students to protest outside the embassy on Sunday "to protest the violation of Iranian waters by British soldiers and the Security Council's latest statement," the student news agency ISNA said.
Iran displayed three of the detained Britons on television on Friday and released a letter from one saying she was being held because of "oppressive" British and U.S. behavior in Iraq.
British forces have been deployed in southern Iraq since joining the U.S.-led invasion of the country in 2003. Britain and the United States accuse Iran of allowing sophisticated weapons used to target their forces to be brought into Iraq.
http://www.msnbc.msn.com/id/17883991

Labels: Bush-Iran-Brits - Irani waters
Monday, March 26, 2007
The Dead Speak
THE WAR IN THE WORDS OF THE DEAD








Introduction





Chapter 1





Chapter 2





Chapter 3





Chapter 4





Commentary





More





Voice of the Fallen: The Series




NEWSWEEK will run more letters from fallen American troops during the next few weeks. Check back for the latest installment.





By Jon Meacham
Newsweek
April 2, 2007 Issue - He was exhausted, but he wanted to talk to his daughter, and the only way to do that in Fallujah was to write a letter. "This war is not like the big war—there are no big sweeping maneuvers with hundreds of tanks pouring over the border and so forth," Army Maj. Michael Mundell told his 17-year-old, Erica (nicknamed "Eddie"), on Friday, Oct. 27, 2006. "It's a fight of 10 man squads in the dark, of ambushes and snipers and IEDs. When I go out to fight, it's usually with less than 20 men ... And I go out to fight almost every day."
The pace, he admitted, was punishing.
"We are weary, Eddie, so very weary. I can't tell you how bone tired I am. There are times when we get back in and ... it is all I can do to drag myself from the truck and stagger up here to take off all the junk I gotta wear ... " His tone briefly brightened as he thought of Erica's life back home, where she was a senior at Meade County High School in Brandenburg, Ky.: "Tell all of your friends and your teachers that I said hello from Fallujah. I am doing well and our battalion is considered the best in the brigade. We are fighting the enemy and hopefully winning, though that is difficult to measure." He signed off with a pledge: "Never forget that your daddy loves you more than anything and that I will be home soon." Mundell could not keep that last promise. At a quarter to 2 on the afternoon of Friday, Jan. 5, 2007, he was killed by an IED while on patrol in Fallujah; the casket was closed at his funeral in Kentucky.
Never forget that your daddy loves you: As a soldier, husband, father and casualty of war, Michael Mundell is one of at least 3,230 Americans who have died in the struggle for Iraq. He was 47 years old and left behind his wife, Audrey, and four children, all under 18. By itself, Mundell's story is sad but familiar, even predictable. Wars have always made women widows and children orphans. When Mundell was laid to rest in a hillside cemetery in Irvington, Ky., he joined the solemn company of America's fallen warriors—men and women who become objects of veneration, commemorated, in Lincoln's words, as the "honored dead" who "gave the last full measure of devotion." They are garlanded and buried beneath white marble, revered but silenced.
Yet they still have stories to tell, stories that bear hearing, and remembering. In letters and journals and e-mails, the war dead live on, their words—urgent, honest, unself-conscious—testament to the realities of combat. What do they have to say to us? This special issue of NEWSWEEK is an attempt to answer that question. We have collected the correspondence of American soldiers at war in Iraq, accounts written not for the public but for those they loved—wives, husbands, children, parents, siblings. Each of the warriors whose words are excerpted here died in the line of duty. Each of their families chose to share their stories with us, and with you. "It's become very important to me that these soldiers and Marines are viewed as individuals with lives, dreams, experiences and families," says Terri Clifton, whose son, Marine Lance Cpl. Chad Clifton, was killed by a mortar in Anbar province. "They aren't cardboard cutouts in shades of red, white and blue."
No matter where one stands on the decision to invade or on the conduct of the conflict over the last four years, the Iraq War is indisputably a curious thing. For the first time in the experience of any living American, we have sent an all-volunteer force overseas to advance our interests for a prolonged period, and virtually nothing has been asked of the vast majority of those who do not have loved ones in the line of fire. The bargain is hardly fair. If we take the president at his word, the men and women of the armed forces are fighting and dying over there so that you and I will not have to face mortal danger over here.

The administration may be right about this; it is impossible to know now. As wrong as the White House has been about the premise of the war (the presence of weapons of mass destruction) and about the way we would be received (as "liberators," in Vice President Dick Cheney's formulation) and about the conduct of the conflict once Saddam fell (we were unprepared for the sectarian bloodbath), history moves according to its own rhythms, not according to news cycles or presidential terms. Despite the depressing state of play on the ground, things may yet turn out better than most Americans suspect—or fear.
The families who co-operated with NEWSWEEK did not do so to make unified political statements; their views are as divergent as the broad public's. "It's not an issue of being antiwar or pro-war, anti-Bush or pro-Bush," says Larry Page, whose son Rex died in action. "The real issue is that our young people are there, and they need and deserve our support. My son said to me in one of his phone calls from Iraq: 'Dad, we've taken the fight to them. If we don't fight them here, we will fight them on the streets of America. They proved that at 9/11. We don't want IEDs and suicide bombers on the streets of America.' My son and 3,000 others bravely gave their lives so that you and I could live in liberty and freedom." That is one view; there are, to say the least, others. "The words of our fallen soldiers bear silent witness to their valiant effort to do their best on our behalf," says Paul R. Petty, who lost his son Christopher. "They have not been defeated in battle, but neither were they given the wherewithal to achieve the desired result. Ill-conceived notions of a foreign culture led us to believe we could accomplish our goals easily and on the cheap." The point that unites them is grief—and the centrality of the human story of war.
History, like memory, is selective. Reporters observe; historians imagine; aging soldiers spin threads of experience into tapestries of story. Veterans who come home and talk about what happened can never really re-create what it was like, or even what it really felt like, for, as Shakespeare noted, old men forget, and what they do not forget they tend to "remember with advantage." This is not to say that the survivors embellish on purpose. It is to say, though, that memory is not always a reliable witness. Painful details are suppressed; context is lost; events are elided, often unconsciously, in order to make the inchoate choate.
The kind of history in this issue is the most bracing kind of recollection, for it is barely recollection at all. It is more like collection, as the warriors record what is happening to them virtually as it happens. The result is a window on Iraq we have not had before: the bravery, the fear and the chaos of war, and the loves and hates and dreams and nightmares of the warriors. Things are incredibly busy, then they are not. The Iraqis are welcoming, then they are not. The war is going well, then it is not. The mission makes sense, then it does not. Here is Mundell, in late August 2006: "This will be short, as time is very short, as usual.
"The happenings of late: we continue to get mortared, with an occasional RPG shot at us thrown in for fun ... A little girl was killed yesterday in a cross fire between our Iraqis, the Marines and the bad guys. Sad.
"Folks, I am very tired. We seem to be doing little, the city is mostly trash, rubble and AIF [Anti-Iraq Forces], and frankly I am tired of being a walking bull's-eye for anyone with an AK and nothing better to do, which includes most of the populace, apparently. We have found three IEDs before they could explode under our trucks.
"Sorry this isn't funny or upbeat—there is nothing funny or upbeat to talk about right now. People are dying like flies here and I am sick of it."
The warriors whose voices you will hear are, like Mundell's, more often interested in survival than in grand strategy. "A lot of people are ready to go home," said Army Sgt. Patrick Tainsh shortly after the invasion in 2003. "They can't wait to eat pizza or have a Dr Pepper. It doesn't matter to me. Nothing matters except to do my job and bring my guys and myself home. Not for pizza and for D.P. but for sanctuary." They are unsentimental, and have little patience for frivolity. In the fall of 2006 Mundell's radio operator, Joseph R. Pugsley, read about an animals' rights protest over how Ben & Jerry's treated the chickens that lay the eggs for the company's ice cream. He could hardly believe it. "Joe feels that these people have entirely too much time on their hands," Mundell reported home. " 'God, are they stupid! Get a life'," Pugsley said. ("There was more," Mundell added, "but most of it was rather obscene.")
The violence is pervasive, inescapable. "My tank took another RPG this a.m. for a grand total of 8," Army First Lt. Kenneth Ballard wrote his mother from Najaf in May 2004. "It has turned into almost a game of sorts. They shoot, we get hit, we shoot back, killing them most of the time, only to repeat it all over again somewhere else in the city."
And so it goes on, and on, in places like Najaf, Baghdad, Fallujah and Anbar province, places that are only names on the news. It is difficult for many Americans to explain how all the pieces of the war fit together, or what separates a Sunni from a Shia, or what a stable Iraq would look like. This has been a strangely contextless conflict. There is no consistent narrative, no battles to follow or specific victories to pray for. We do not have a president to tell us these things, for George W. Bush has chosen to forgo the example of the greatest American war leader of the 20th century, Franklin D. Roosevelt, who spoke often of the war, of its progress and its perils. "The news is going to get worse and worse before it begins to get better," Roosevelt told the country in February 1942. "The American people must be prepared for it and they must get it straight from the shoulder." Sacrifice was shared, and no one was exempt. All four of FDR's sons were in uniform, as were those of his chief political adviser, Harry Hopkins, who lost a son, Peter, in the Marshall Islands.
A year after Fort Sumter, the philosopher John Stuart Mill contributed a piece to Harper's Magazine entitled "The Contest in America." Army Maj. David Taylor, who was killed in action on Oct. 22, 2006, always carried a quotation from the essay with him; it was found in his effects after he died. Mill's argument: some things are worth dying for. "War is an ugly thing, but not the ugliest of things," Mill wrote. "A man who has nothing which he is willing to fight for ... is a miserable creature who has no chance of being free, unless made and kept so by the exertions of better men than himself."
What emerges from the following pages is the sense that the fallen are better men, and women. "We are really fine so long as we have each other over here," Ballard wrote home, and he meant it. Nations go to war over ideas and politics, but minds can change and politics may shift. By their very nature, matters of state are fluid and inconstant. What is constant in war is the humanity of the warrior, and the pain of those left behind, who reach for hands they can no longer touch and listen for voices they can no longer hear, except in the words you are about to read.
Unless otherwise stated, all images are courtesy of the troops' families.
---
---
Labels: The Dead Speak
Sunday, March 25, 2007
Lies, Betrayal, Save Money for Bush's War by Cheating Vets
http://www.thenation.com.doc/20070409/kors
article posted March 22, 2007 (April 9, 2007 issue)
How Specialist Town Lost His Benefits
Joshua Kors
Jon Town has spent the last few years fighting two battles, one against his body, the other against the US Army. Both began in October 2004 in Ramadi, Iraq. He was standing in the doorway of his battalion's headquarters when a 107-millimeter rocket struck two feet above his head. The impact punched a piano-sized hole in the concrete facade, sparked a huge fireball and tossed the 25-year-old Army specialist to the floor, where he lay blacked out among the rubble.
"The next thing I remember is waking up on the ground." Men from his unit had gathered around his body and were screaming his name. "They started shaking me. But I was numb all over," he says. "And it's weird because... because for a few minutes you feel like you're not really there. I could see them, but I couldn't hear them. I couldn't hear anything. I started shaking because I thought I was dead."
Eventually the rocket shrapnel was removed from Town's neck and his ears stopped leaking blood. But his hearing never really recovered, and in many ways, neither has his life. A soldier honored twelve times during his seven years in uniform, Town has spent the last three struggling with deafness, memory failure and depression. By September 2006 he and the Army agreed he was no longer combat-ready.
But instead of sending Town to a medical board and discharging him because of his injuries, doctors at Fort Carson, Colorado, did something strange: They claimed Town's wounds were actually caused by a "personality disorder." Town was then booted from the Army and told that under a personality disorder discharge, he would never receive disability or medical benefits.
Town is not alone. A six-month investigation has uncovered multiple cases in which soldiers wounded in Iraq are suspiciously diagnosed as having a personality disorder, then prevented from collecting benefits. The conditions of their discharge have infuriated many in the military community, including the injured soldiers and their families, veterans' rights groups, even military officials required to process these dismissals.
They say the military is
purposely misdiagnosing
soldiers like Town and that it's doing so for one reason: to
cheat them out of a lifetime of disability and medical benefits, thereby saving billions in expenses
.
The Fine Print
In the Army's separations manual it's called Regulation 635-200, Chapter 5-13: "Separation Because of Personality Disorder." It's an alluring choice for a cash-strapped military because enacting it is quick and cheap. The Department of Veterans Affairs doesn't have to provide medical care to soldiers dismissed with personality disorder. That's because under Chapter 5-13, personality disorder is a pre-existing condition. The VA is only required to treat wounds sustained during service.
Soldiers discharged under 5-13 can't collect disability pay either. To receive those benefits, a soldier must be evaluated by a medical board, which must confirm that he is wounded and that his wounds stem from combat. The process takes several months, in contrast with a 5-13 discharge, which can be wrapped up in a few days.
If a soldier dismissed under 5-13 hasn't served out his contract, he has to give back a slice of his re-enlistment bonus as well. That amount is often larger than the soldier's final paycheck. As a result, on the day of their discharge, many injured vets learn that they owe the Army several thousand dollars.
One military official says doctors at his base are doing more than withholding this information from wounded soldiers; they're actually telling them the opposite: that if they go along with a 5-13, they'll get to keep their bonus and receive disability and medical benefits. The official, who demanded anonymity, handles discharge papers at a prominent Army facility. He says the soldiers he works with know they don't have a personality disorder. "But the doctors are telling them, this will get you out quicker, and the VA will take care of you. To stay out of Iraq, a soldier will take that in a heartbeat. What they don't realize is, those things
are lies
. The soldiers, they don't read the fine print," he says. "They don't know to ask for a med board. They're taking the word of the doctors. Then they sit down with me and find out what a 5-13 really means--they're shocked."
Russell Terry, founder of the Iraq War Veterans Organization (IWVO), says he's watched this scenario play itself out many times. For more than a year, his veterans' rights group has been receiving calls from distraught soldiers discharged under Chapter 5-13. Most, he says, say their military doctors pushed the personality disorder diagnosis, strained to prove that their problems existed before their service in Iraq and refused to acknowledge evidence of posttraumatic stress disorder (PTSD), traumatic brain injury and physical traumas, which would allow them to collect disability and medical benefits.
"These soldiers are coming home from Iraq with all kinds of problems," Terry says. "They go to the VA for treatment, and they're turned away. They're told, 'No, you have a pre-existing condition, something from childhood.'" That leap in logic boils Terry's blood. "Everybody receives a psychological screening when they join the military. What I want to know is, if all these soldiers really did have a severe pre-existing condition, how did they get into the military in the first place?"
Terry says that trying to reverse a 5-13 discharge is a frustrating process. A soldier has to claw through a thicket of paperwork, appeals panels and backstage political dealing, and even with the guidance of an experienced advocate, few are successful. "The 5-13," he says, "it's like a scarlet letter you can't get taken off."
In the last six years the Army has diagnosed and discharged more than 5,600 soldiers because of personality disorder, according to the Defense Department. And the numbers keep rising: 805 cases in 2001, 980 cases in 2003, 1,086 from January to November 2006. "It's getting worse and worse every day," says the official who handles discharge papers. "At my office the numbers started out normal. Now it's up to three or four soldiers each day. It's like, suddenly everybody has a personality disorder."
The reason is simple, he says. "They're saving a buck. And they're saving the VA money too. It's all about money."
Exactly how much money is difficult to calculate. Defense Department records show that across the entire armed forces,
more than 22,500 soldiers have been dismissed due to personality disorder in the last six years
. How much those soldiers would have collected in disability pay would have been determined by a medical board, which evaluates just how disabled a veteran is. A completely disabled soldier receives about $44,000 a year. In a recent study on the cost of veterans' benefits for the Iraq and Afghanistan wars, Harvard professor Linda Bilmes estimates an average disability payout of $8,890 per year and a future life expectancy of forty years for soldiers returning from service.
Using those figures, by discharging soldiers under Chapter 5-13, the military could be saving upwards of $8 billion in disability pay. Add to that savings the cost of medical care over the soldiers' lifetimes. Bilmes estimates that each year the VA spends an average of $5,000 in medical care per veteran. Applying those numbers, by discharging 22,500 soldiers because of personality disorder, the military saves $4.5 billion in medical care over their lifetimes.
Town says Fort Carson psychologist Mark Wexler assured him that he would receive disability benefits, VA medical care and that he'd get to keep his bonus--good news he discussed with Christian Fields and Brandon Murray, two soldiers in his unit at Fort Carson. "We talked about it many times," Murray says. "Jon said the doctor there promised him benefits, and he was happy about it. Who wouldn't be?" Town shared that excitement with his wife, Kristy, shortly after his appointment with Wexler. "He said that Wexler had explained to him that he'd get to keep his benefits," Kristy says, "that the doctor had looked into it, and it was all coming with the chapter he was getting."
In fact, Town would not get disability pay or receive long-term VA medical care. And he would have to give back the bulk of his $15,000 bonus. Returning that money meant Town would leave Fort Carson less than empty-handed: He now owed the Army more than $3,000. "We had this on our heads the whole way, driving home to Ohio," says Town. Wexler made him promises, he says, about what would happen if he went along with the diagnosis. "The final day, we find out, none of it was true. It was a total shock. I felt like I'd been betrayed by the Army."
Wexler denies discussing benefits with Town. In a statement, the psychologist writes, "I have never discussed benefits with my patients as that is not my area of expertise. The only thing I said to Spc. Town was that the Chapter 5-13 is an honorable discharge.... I assure you, after over 15 years in my position, both as active duty and now civilian, I don't presume to know all the details about benefits and therefore do not discuss them with my patients."
Wexler's boss, Col. Steven Knorr, chief of the Department of Behavioral Health at Evans Army Hospital, declined to speak about Town's case. When asked if doctors at Fort Carson were assuring patients set for a 5-13 discharge that they'll receive disability benefits and keep their bonuses, Knorr said, "I don't believe they're doing that."
Not the Man He Used to Be
Interviews with soldiers diagnosed with personality disorder suggest that the military is using the psychological condition as a catch-all diagnosis, encompassing symptoms as diverse as deafness, headaches and schizophrenic delusions. That flies in the face of the Army's own regulations.
According to those regulations, to be classified a personality disorder, a soldier's symptoms had to exist before he joined the military. And they have to match the "personality disorder" described in the Diagnostic and Statistical Manual of Mental Disorders, the national standard for psychiatric diagnosis. Town's case provides a clear window into how these personality disorder diagnoses are being used because even a cursory examination of his case casts grave doubt as to whether he fits either criterion.
Town's wife, for one, laughs in disbelief at the idea that her husband was suffering from hearing loss before he headed to Iraq. But since returning, she says, he can't watch TV unless the volume is full-blast, can't use the phone unless its volume is set to high. Medical papers from Fort Carson list Town as having no health problems before serving in Iraq; after, a Fort Carson audiologist documents "functional (non-organic) hearing loss." Town says his right ear, his "good" ear, has lost 50 percent of its hearing; his left is still essentially useless.
He is more disturbed by how his memory has eroded. Since the rocket blast, he has struggled to retain new information. "Like, I'll be driving places, and then I totally forget where I'm going," he says. "Numbers, names, dates--unless I knew them before, I pretty much don't remember." When Town returned to his desk job at Fort Carson, he found himself straining to recall the Army's regulations. "People were like, 'What are you, dumb?' And I'm like, 'No, I'm probably smarter than you. I just can't remember stuff,'" he says, his melancholy suddenly replaced by anger. "They don't understand--I got hit by a rocket."
Those bursts of rage mark the biggest change, says Kristy Town. She says the man she married four years ago was "a real goofball. He'd do funny voices and faces--a great Jim Carrey imitation. When the kids would get a boo-boo, he'd fall on the ground and pretend he got a boo-boo too." Now, she says, "his emotions are all over the place. He'll get so angry at things, and it's not toward anybody. It's toward himself. He blames himself for everything." He has a hard time sleeping and doesn't spend as much time as he used to with the kids. "They get rowdy when they play, and he just has to be alone. It's almost like his nerves can't handle it."
Kristy begins to cry, pauses, before forcing herself to continue. She's been watching him when he's alone, she says. "He kind of... zones out, almost like he's in a daze."
In May 2006 Town tried to electrocute himself, dropping his wife's hair dryer into the bathtub. The dryer short-circuited before it could electrify the water. Fort Carson officials put Town in an off-post hospital that specializes in suicidal depression. Town had been promoted to corporal after returning from Iraq; he was stripped of that rank and reduced back to specialist. "When he came back, I tried to be the same," Kristy says. "He just can't. He's definitely not the man he used to be."
Town says his dreams have changed too. They keep taking him back to Ramadi, to the death of a good friend who'd been too near an explosion, taken too much shrapnel to the face. In his dreams Town returns there night after night to soak up the blood.
He stops his description for a rare moment of levity. "Sleep didn't use to be like that," he says. "I used to sleep just fine."
How the Army determined then that Town's behavioral problems existed before his military service is unclear. Wexler, the Fort Carson psychologist who made the diagnosis, didn't interview any of Town's family or friends. It's unclear whether he even questioned Town's fellow soldiers in 2-17 Field Artillery, men like Fields, Murray and Michael Forbus, who could have testified to his stability and award-winning performance before the October 2004 rocket attack. As Forbus puts it, before the attack Town was "one of the best in our unit"; after, "the son of a gun was deaf in one ear. He seemed lost and disoriented. It just took the life out of him."
Town finds his diagnosis especially strange because the Diagnostic Manual appears to preclude cases like his. It says that a pattern of erratic behavior cannot be labeled a "personality disorder" if it's from a head injury. The specialist asserts that his hearing loss, headaches and anger all began with the rocket attack that knocked him unconscious.
Wexler did not reply to repeated requests seeking comment on Town's diagnosis. But Col. Knorr of Fort Carson's Evans hospital says he's confident his doctors are properly diagnosing personality disorder. The colonel says there is a simple explanation as to why in so many cases the lifelong condition of personality disorder isn't apparent until after serving in Iraq. Traumatic experiences, Knorr says, can trigger a condition that has lain dormant for years. "They may have done fine in high school and before, but it comes out during the stress of service."
"I've never heard of that occurring," says Keith Armstrong, a clinical professor with the Department of Psychiatry at the University of California, San Francisco. Armstrong has been counseling traumatized veterans for more than twenty years at the San Francisco VA; most recently he is the co-author of Courage After Fire: Coping Strategies for Troops Returning From Iraq and Afghanistan and Their Families. "Personality disorder is a diagnosis I'm very cautious about," he says. "My question would be, has PTSD been ruled out? It seems to me that if it walks like a duck, looks like a duck, let's see if it's a duck before other factors are implicated."
Knorr admits that in most cases, before making a diagnosis, his doctors only interview the soldier. But he adds that interviewing family members, untrained to recognize signs of personality disorder, would be of limited value. "The soldier's perception and their parents' perception is that they were fine. But maybe they didn't or weren't able to see that wasn't the case."
Armstrong takes a very different approach. He says family is a "crucial part" of the diagnosis and treatment of soldiers returning from war. The professor sees parents and wives as so important, he encourages his soldiers to invite their families into the counseling sessions. "They bring in particular information that can be helpful," he says. "By not taking advantage of their knowledge and support, I think we're doing soldiers a disservice."
Knorr would not discuss the specifics of Town's case. He did note, however, that his department treats thousands of soldiers each year and says within that population, there are bound to be a small fraction of misdiagnosed cases and dissatisfied soldiers. He adds that the soldiers he's seen diagnosed and discharged with personality disorder are "usually quite pleased."
The Army holds soldiers' medical records and contact information strictly confidential. But The Nation was able to locate a half-dozen soldiers from bases across the country who were diagnosed with personality disorder. All of them rejected that diagnosis. Most said military doctors tried to force the diagnosis upon them and turned a blind eye to symptoms of PTSD and physical injury.
One such veteran, Richard Dykstra, went to the hospital at Fort Stewart, Georgia, complaining of flashbacks, anger and stomach pains. The doctor there diagnosed personality disorder. Dykstra thinks the symptoms actually stem from PTSD and a bilateral hernia he suffered in Iraq. "When I told her my symptoms, she said, 'Oh, it looks like you've been reading up on PTSD.' Then she basically said I was making it all up," he says.
In her report on Dykstra, Col. Ana Parodi, head of Behavioral Health at Fort Stewart's Winn Army Hospital, writes that the soldier gives a clear description of PTSD symptoms but lays them out with such detail, it's "as if he had memorized the criteria." She concludes that Dykstra has personality disorder, not PTSD, though her report also notes that Dykstra has had "no previous psychiatric history" and that she confirmed the validity of his symptoms with the soldier's wife.
Parodi is currently on leave and could not be reached for comment. Speaking for Fort Stewart, Public Affairs Officer Lieut. Col. Randy Martin says that the Army's diagnosis procedures "have been developed over time, and they are accepted as being fair." Martin said he could not address Dykstra's case specifically because his files have been moved to a storage facility in St. Louis.
William Wooldridge had a similar fight with the Army. The specialist was hauling missiles and tank ammunition outside Baghdad when, he says, a man standing at the side of the road grabbed hold of a young girl and pushed her in front of his truck. "The little girl," Wooldridge says, his voice suddenly quiet, "she looked like one of my daughters."
When he returned to Fort Polk, Louisiana, Wooldridge told his doctor that he was now hearing voices and seeing visions, hallucinations of a mangled girl who would ask him why he had killed her. His doctor told him he had personality disorder. "When I heard that, I flew off the handle because I said, 'Hey, that ain't me. Before I went over there, I was a happy-go-lucky kind of guy.'" Wooldridge says his psychologist, Capt. Patrick Brady of Baynes-Jones Army Community Hospital, saw him for thirty minutes before making his diagnosis. Soon after, Wooldridge was discharged from Fort Polk under Chapter 5-13.
He began to fight that discharge immediately, without success. Then in March 2005, eighteen months after Wooldridge's dismissal, his psychiatrist at the Memphis VA filed papers rejecting Brady's diagnosis and asserting that Wooldridge suffered from PTSD so severe, it made him "totally disabled." Weeks later the Army Discharge Review Board voided Wooldridge's 5-13 dismissal, but the eighteen months he'd spent lingering without benefits had already taken its toll.
"They put me out on the street to rot, and if I had left things like they were, there would have been no way I could have survived. I would have had to take myself out or had someone do it for me," he says. The way they use personality disorder to diagnose and discharge, he says, "it's like a mental rape. That's the only way I can describe it."
Captain Brady has since left Fort Polk and is now on staff at Fort Wainwright, Alaska; recently he deployed to Iraq and was unavailable for comment. In a statement, Maj. Byron Strother, chief of the Department of Behavioral Health at Baynes-Jones hospital, writes that allegations that soldiers at Fort Polk are being misdiagnosed "are not true." Strother says diagnoses at his hospital are made "only after careful consideration of all relevant clinical observation, direct examination [and] appropriate testing."
If there are dissatisfied soldiers, says Knorr, the Fort Carson official, "I'll bet not a single one of them has been diagnosed with conditions that are clear-cut and makes them medically unfit, like schizophrenia."
Linda Mosier disputes that. When her son Chris left for Iraq in 2004, he was a "normal kid," she says, who'd call her long-­distance and joke about the strange food and expensive taxis overseas. When he returned home for Christmas 2005, "he wouldn't sit down for a meal with us. He just kept walking around. I took him to the department store for slacks, and he was inside rushing around saying, 'Let's go, let's go, let's go.' He wouldn't sleep, and the one time he did, he woke up screaming."
Mosier told his mother of a breaking point in Iraq: a roadside bomb that blew up the truck in front of his. "He said his buddies were screaming. They were on fire," she says, her voice trailing off. "He was there at the end to pick up the hands and arms." After that Mosier started having delusions. Dr. Wexler of Fort Carson diagnosed personality disorder. Soon after, Mosier was discharged under Chapter 5-13.
Mosier returned home, still plagued by visions. In October he put a note on the front door of their Des Moines, Iowa, home saying the Iraqis were after him and he had to protect the family, then shot himself.
Mosier's mother is furious that doctors at Fort Carson treated her son for such a brief period of time and that Wexler, citing confidentiality, refused to tell her anything about that treatment or give her family any direction on how to help Chris upon his return home. She does not believe her son had a personality disorder. "They take a normal kid, he comes back messed up, then nobody was there for him when he came back," Linda says. "They discharged him so they didn't have to treat him."
Wexler did not reply to a written request seeking comment on Mosier's case.
Thrown to the Wolves
Today Jon Town is home, in small-town Findlay, Ohio, with no job, no prospects and plenty of time to reflect on how he got there. Diagnosing him with personality disorder may have saved the Army thousands of dollars, he says, but what did Wexler have to gain?
Quite a lot, says Steve Robinson, director of veterans affairs at Veterans for America, a Washington, DC-based soldiers' rights group. Since the Iraq War began, he says, doctors have been facing an overflow of wounded soldiers and a shortage of rooms, supplies and time to treat them. By calling PTSD a personality disorder, they usher one soldier out quickly, freeing up space for the three or four who are waiting.
Terry, the veterans' advocate from IWVO, notes that unlike doctors in the private sector, Army doctors who give questionable diagnoses face no danger of malpractice suits due to Feres v. U.S., a 1950 Supreme Court ruling that bars soldiers from suing for negligence. To maintain that protection, Terry says, most doctors will diagnose personality disorder when prodded to do so by military officials.
That's precisely how the system works, says one military official familiar with the discharge process. The official, who requested anonymity, is a lawyer with Trial Defense Services (TDS), a unit of the Army that guides soldiers through their 5-13 discharge. "Commanders want to get these guys out the door and get it done fast. Even if the next soldier isn't as good, at least he's good to go. He's deployable. So they're telling the docs what diagnosis to give to get what discharge."
The lawyer says he knows this is happening because commanders have told him that they're doing it. "Some have come to me and talked about doing this. They're saying, 'Give me a specific diagnosis. It'll support a certain chapter.'"
Colonel Martin of Fort Stewart said the prospect of commanders pressuring doctors to diagnose personality disorder is "highly unlikely." "Doctors are making these determinations themselves," Martin says. In a statement, Col. William Statz, commander at Fort Polk's Baynes-Jones hospital, says, "Any allegations that clinical decisions are influenced by either political considerations or command pressures, at any level, are untrue."
But a second TDS lawyer, who also demanded anonymity, says he's watched the same process play out at his base. "What I've noticed is right before a unit deploys, we see a spike in 5-13s, as if the commanders are trying to clean house, get rid of the soldiers they don't really need," he says. "The chain of command just wants to eliminate them and get a new body in there fast to plug up the holes." If anyone shows even moderate signs of psychological distress, he says, "they're kicking them to the curb instead of treating them."
Both lawyers say that once a commander steps in and pushes for a 5-13, the diagnosis and discharge are carved in stone fairly fast. After that happens, one lawyer says he points soldiers toward the Army Board for Correction of Military Records, where a 5-13 label could be overturned, and failing that, advises them to seek redress from their representative in Congress. Town did that, contacting Republican Representative Michael Oxley of Ohio, with little success. Oxley, who has since retired, did not return calls seeking comment.
Few cases are challenged successfully or overturned later, say the TDS lawyers. The system, says one, is essentially broken. "Right now, the Army is eating its own. What I want to see is these soldiers getting the right diagnosis, so they can get the right help, not be thrown to the wolves right away. That is what they're doing."
Still, Town tries to remain undaunted. He got his story to Robinson of Veterans for America, who brought papers on his case to an October meeting with several top Washington officials, including Deputy Surgeon General Gale Pollock, Assistant Surgeon General Bernard DeKoning and Republican Senator Kit Bond of Missouri. There Robinson laid out the larger 5-13 problem and submitted a briefing specifically on Town.
"We got a very positive response," Robinson says. "After we presented, they were almost appalled, like we are every day. They said, 'We didn't know this was happening.'"
Robinson says the deputy surgeon general promised to look into Town's case and the others presented to her. Senator Bond, whose son has served in Iraq, floated the idea of a Congressional hearing if the 5-13 issue isn't resolved. The senator did not return calls seeking comment.
In the meantime, Town is doing his best to keep his head in check. He says his nightmares have been waning in recent weeks, but most of his problems persist. He's thinking of going to a veterans support group in Toledo, forty-five miles north of Findlay. There will be guys there who have been through this, he says, vets who understand.
Town hesitates, his voice suddenly much softer. "I have my good days and my bad days," he says. "It all depends on whether I wake up in Findlay or Iraq."
Labels: Veteran medical care - lies-betrayal- save money for Bush's war
More Neglect and Abuse of Veterans; Old and Useless, Let them Die
http://www.msnbc.msn.com/id/17743108
Pentagon investigating vets retirement home
Allegations of rooms spattered with blood, urine, feces
•
Terror database casts a wide net
•
Soldier's mom gets laptops for the wounded
•
Girl's death stirs debate over psychiatric meds
•
Navy destroyer to be named after heroic Marine
Updated: 5:50 p.m. CT March 22, 2007
WASHINGTON - In the latest allegations of poor treatment for veterans, the Pentagon said Thursday it is investigating conditions at a veterans retirement home in the capital.
A medical team went for an inspection Wednesday after Defense Secretary Robert Gates got a letter from congressional investigators about allegations of a rising death rate and rooms spattered with blood, urine and feces at the Armed Forces Retirement Home in Washington.
The letter also cited allegations of an increase in the rates of residents who are sent to hospitals and a case in which a veteran had a bedsore with maggots in the wound.
"We are going to take every complaint, and we are going to address it," said Maj. Stewart T. Upton, a Defense Department spokesman.
Tim Cox, chief operating officer at the home, said the allegations were made by "unidentified critics," were "without merit" and had not been investigated by the Government Accountability Office.
"Of course, this home has experienced incidents consistent with a nursing home environment," he said in a statement, noting half the residents are older than 80 and many have chronic health conditions.
The 87-year-old resident who had the maggots had refused medical treatment, Cox said. He said that was no excuse and that eight employees were fired after an investigation "showed they failed to meet our high standards of care."
Click for related content
Discuss: What can be done to improve conditions?
Read the letter sent to Defense Secretary Gates (.pdf)
Many VA clinics beset with mold, leaky roofs
The investigation comes a month after revelations about poor living conditions and bureaucratic delays at Walter Reed Army Medical Center, also in Washington.
That scandal has forced the resignations of three high-level Army officials and led to a review of the vast network of clinics and hospitals run by the Veterans Affairs Department. The agency, in an investigation made public this week, found those facilities were beset by maintenance problems such as mold, leaking roofs and even a colony of bats.
The Washington retirement home, formerly known as the Soldiers' and Airmen's Home, opened in 1851 to wounded and disabled war veterans. It is home to more than 1,100 retirees.
Busloads of veterans escaping hurricane-devastated Mississippi were brought to the home in September 2005 after Hurricane Katrina pounded its sister facility in Gulfport.
MORE FROM MSNBC.COM
Reports of squalor at veterans retirement home
Interactive: Richard Engel's 'Fight for Iraq'
© 2007 The Associated Press.
Labels: veterans medical care - elferly neglect and abuse
Friday, March 23, 2007
A Soldier Died Today
The following poem is about the passing of an old soldier, a veteran of past conflicts, but in spirit is equally applicable to each of our troops today.
http://fnnc.org/mem.html
A SOLDIER DIED TODAY
by A. Lawrence Vaincourt *
He was getting old and paunchy and his hair was falling fast, And he sat around the Legion, telling stories of the past, Of a war that he had fought in and the deeds that he had done, In his exploits with his buddies; they were heroes, every one.
And tho' sometimes, to his neighbors, his tales became a joke, All his Legion buddies listened, for they knew whereof he spoke. But we'll hear his tales no longer for old Bill has passed away, And the world's a little poorer, for a soldier died today.
He will not be mourned by many, just his children and his wife, For he lived an ordinary and quite uneventful life. Held a job and raised a family, quietly going his own way, And the world won't note his passing, though a soldier died today.
When politicians leave this earth, their bodies lie in state, While thousands note their passing and proclaim that they were great. Papers tell their whole life stories, from the time that they were young, But the passing of a soldier goes unnoticed and unsung.
Is the greatest contribution to the welfare of our land A guy who breaks his promises and cons his fellow man? Or the ordinary fellow who, in times of war and strife, Goes off to serve his Country and offers up his life?
A politician's stipend and the style in which he lives Are sometimes disproportionate to the service that he gives. While the ordinary soldier, who offered up his all, Is paid off with a medal and, perhaps, a pension small.
It's so easy to forget them for it was so long ago That the old Bills of our Country went to battle, but we know It was not the politicians, with their compromise and ploys, Who won for us the freedom that our Country now enjoys.
Should you find yourself in danger, with your enemies at hand, Would you want a politician with his ever-shifting stand? Or would you prefer a soldier, who has sworn to defend His home, his kin and Country and would fight until the end?
He was just a common soldier and his ranks are growing thin, But his presence should remind us we may need his like again. For when countries are in conflict, then we find the soldier's part Is to clean up all the troubles that the politicians start.
If we cannot do him honor while he's here to hear the praise, Then at least let's give him homage at the ending of his days. Perhaps just a simple headline in a paper that would say, "OUR COUNTRY IS IN MOURNING, FOR A SOLDIER DIED TODAY"
* Copyright © 1985 by A. Lawrence Vaincourt. This poem and other works can be found in Mr. Vaincourt's book,
Rhymes And Reflections (1991)
.
Labels: death of a soldier
Honor and Support ALL our Veterans at All Times
From: America in Uniform; Belief Net
The poem, "The Parade," is an original work by subscriber Sherrod L. Fielden. It has also been published under the title "The Veteran" and we think it is great. Check out other poems by Sherrod at
http://www.CowboyPoetry.com/slf.htm
.
THE PARADE
By Sherrod L. Fielden
The parade is forming two blocks away,
A small-town acknowledgment of Veteran's Day.
The high school band standing in ranks,
Ready to march, showing their thanks.
Floats in a line, ready to go.
Children to ride them -- faces aglow.
Parade Marshall reminding, "Keep your pace steady.
"Horses and riders all at the ready.
Meanwhile, just two blocks down the street,
Veterans to be honored, shuffle tired old feet.
Some using canes and a walker or two,
Gray hair under VFW caps of blue.
Out in front for all to see,
Old Glory floats on the gentle breeze.
Dim eyes light up with anticipation,
As the colors are posted for our nation.
Each veteran stands as straight as he can,
To salute this proud symbol of our land.
One in a wheel chair, close to the street,
Can't stand at all -- he has no feet.
They were left in a mine field in forty-five;
But, he counts it a blessing he got out alive.
A few of his buddies were buried right there.
So he made a life getting 'round in that chair.
He sits at attention and salutes with the rest,
Knowing he was willing and gave it his best.
If you see a tear in those old eyes,
It's just liquid pride under November skies.
Don't run down our nation where he can hear,
Because he knows the price it cost to get here.
Be as proud as he is and give him a wave.
He's just one of many who gave and gave.
Enjoy the parade, it's been paid for
By the men and women who marched off to war;
Then go on home and say a prayer
For all our veterans --- they still care.
I have posted the above photo before and will probably post it again. It is a poignant reminder of the cost of war and what we as a nation owe our warriors. This old veteran of WWII Pearl Harbor and the young Iraqi War marine symbolize the generations of men and women who have gone off to war at the behest of our government, served honorably and well, and all too often were ignored once their service was completed.
Honor and Support ALL our warriors at ALL times, not just on Veterans Days once a year
Injured Marine at hospital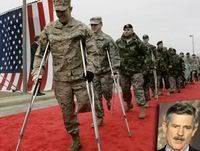 Injured Soldiers
It is our duty and responsibility to hound our representatives to hold the administration's feet to the fire and DEMAND that our fighting troops receive proper training for serving in an alien land, to receive all the proper equipment and materials needed to survive, and to receive every bit of proper care they require when wounded. AND DEMAND that these wars for empire and control of earth's resources be ended and efforts made to establish PEACE between the nations.
Labels: Honor and Support Troops and Veterans
Wednesday, March 21, 2007
Freeway Blogging For Peace
Bloggers are very vocal about ending the war and establishing peace. A number within our blogging circle are physically active as well.
I am sure that everyone who visits this blog and Roc Rebel Granny is well aware of Granny Ann's weekly vigils, in which the girls often participate.
Spadoman also hold vigils every Tuesday in his home town and his group is growing. I don't have his permission to post any of his photos but visit his Peace blog at http://jspado1.blogspot.com and check out his Tuesday's posts.
Marty On The Homefront is also very involved in peace activism and veterans' issues. She participated in the Memorial in Pasadena, Texas, helped set up the 3,000+ flags for each casualty in the war. See post below, "Memorial to the Fallen..." and took one of the photos posted.
Also, check out her two posts and photos at
http://martyonthehomefront.blogspot.com
She is also involved in Freeway Blogging For Peace. See photos below.
I am very proud of our blogger friends and support them 100% in spirit even though I can't join them. But I can and do set out little green soldiers, the Kommandos.
>>>>>>>
email from Marty On The Homefront:
Here is an interview with KPFTs Renee Feltz with a few of those involved with the Memorial in Pasadena and some of the residents who came out.
http://houston.indymedia.org/news/2007/03/57042
.php
And here are some pictures of us on 59...we were on the Dunlavy bridge. These pictures were taken before I arrived. I couldn't get there until after 6pm so our "Military Families Speak Out Banner" isn't there yet. Shoot! And I, being in a rush, forgot to take my camera!
http://houston.indymedia.org/news/2007/03/57057
.php
If I get my hands on some more pictures I'll send them your way.
Marty
Photos-Freeway Blogging for Peace, US-59
by Bill C Tuesday, Mar. 20, 2007 at 11:21 PM

Photos of freeway bloggers for peace and impeachment, March 20, 2007, in commemoration of the 4th anniversary of the invasion of Iraq

Hazard St. Bridge
These photos were taken from US-59 eastbound (going towards downtown Houston) a little after 6 PM, before many of the freeway bloggers had arrived.

They in order from west to east:
Hazard Street bridge
Woodhead Street bridge
Dunlavy Street bridge
Mandell Street bridge
Graustark St. bridge
Montrose Blvd. bridge

See the announcement about this at http://houston.indymedia.org/news/2007/03/57001
.php and http://www.paa-tx.org/node/2540
Woodhead Street bridge
by Bill C Tuesday, Mar. 20, 2007 at 11:21 PM
Dunlavy Street bridge
by Bill C Tuesday, Mar. 20, 2007 at 11:21 PM
Mandell Street bridge
by Bill C Tuesday, Mar. 20, 2007 at 11:21 PM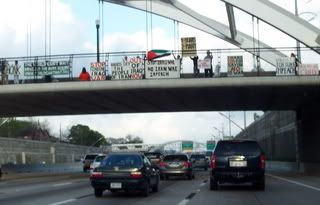 Graustark St. bridge
by Bill C Tuesday, Mar. 20, 2007 at 11:21 PM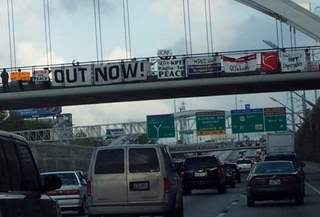 Montrose Blvd. bridge
by Bill C Tuesday, Mar. 20, 2007 at 11:21 PM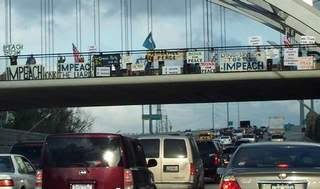 LATEST COMMENTS ABOUT THIS ARTICLE
Listed below are the 10 latest comments of 7 posted about this article.
These comments are anonymously submitted by the website visitors.

| | | |
| --- | --- | --- |
| TITLE | AUTHOR | DATE |
| Impeach | Rancid | Wednesday, Mar. 21, 2007 at 1:03 PM |
| The Corporate Media Can Kiss Your Ass | Keith | Wednesday, Mar. 21, 2007 at 11:25 AM |
| Thanks for the snacks | hbw | Wednesday, Mar. 21, 2007 at 10:39 AM |
| Ms | Lee Loe | Wednesday, Mar. 21, 2007 at 10:14 AM |
| Make Peace a Lifestyle | Travieso | Wednesday, Mar. 21, 2007 at 10:01 AM |
| Keep Coming Out To Freeway Blogging | Joseph Kaye | Wednesday, Mar. 21, 2007 at 9:05 AM |
| Yea! | keefski | Wednesday, Mar. 21, 2007 at 5:02 AM |
© 2000-2003 Houston Independent Media Center. Unless otherwise stated by the author, all content is free for non-commercial reuse, reprint, and rebroadcast, on the net and elsewhere. Opinions are those of the contributors and are not necessarily endorsed by the Houston Independent Media Center. Running sf-active v0.9.4
Disclaimer
Privacy
Labels: War- Peace activists - Marty
Impacts of War
If links to below slide shows and vids will not work, click on to
http://www.msnbc.msn.com/id/6836120
and access links there.
Redux Pictures

•

Scars from Iraq
Three U.S. troops share how the visible and invisible wounds of war changed their lives and impacted their loved ones.

Getty Images

•

Baghdad ER scenes
The 28th Combat Support Hospital in action after a mortar attack hit a family gathering in the Iraqi capital.

Reuters

•

Remembering the fallen
Family and friends remember loved ones who lost their lives serving in Iraq. View photographs and listen to their stories.
Labels: War - impacts- slides shows and vids
Monday, March 19, 2007
Army Suicides Double
U.S. soldiers' suicide rate in Iraq doubled in '05
22 killed themselves the year after military saw major drop in suicides
http://msnbc.msn.com/id/16288076
WASHINGTON - Suicides among U.S. soldiers in Iraq doubled last year over the previous year to return to a level seen in 2003, U.S. Army medical experts said on Tuesday.
Twenty-two U.S. soldiers in Iraq took their own lives in 2005, a rate of 19.9 per 100,000 soldiers. In 2004, the rate was 10.5 per 100,000 and in 2003, the year of the U.S.-led invasion of Iraq, the figure was 18.8 per 100,000.
The figures cover U.S. Army soldiers only. They do not include members of other U.S. military services in Iraq such as the Marine Corps.
Lt. Gen. Kevin Kiley, the Army's surgeon general, cautioned against misinterpreting the figures, saying suicide rates tended to fluctuate from year to year.
"We think that the numbers are so rare to begin with that it's very hard to make any kind of interpretation," he said at a news conference to present a study on the mental health of U.S. soldiers in Iraq.
"We have not made a connection between the stress on the force and some massive or even significant increase in suicides," he said.
While every suicide was one too many, Kiley said, the suicide rate among soldiers was lower than the average among civilians of the same age and gender.
The survey, a snapshot of the morale and mental health of U.S. soldiers in Iraq in late 2005, found 13.6 percent of the soldiers reported symptoms of acute stress and 16.5 percent reported a combination of depression, anxiety and acute stress.
Those rates were lower than in 2003 but higher than in 2004, the experts said.
Copyright 2007 Reuters Limited.

Labels: War - suicides
Texas Leads in War Casualties
http://chron.com/disp/story.mpl/nation/4640420
.html
March 18, 2007, 12:19AM
Texas paying heavy price in troops, casualties
At Iraq war's 4th anniversary, our death rate per capita exceeds other large states'
By MICHAEL HEDGES
Copyright 2007
Houston Chronicle Washington Bureau
RESOURCES
related links
Search for fallen Texas soldiers in Iraq
Journalists assess the past four years
Land mines being sold on black market
Testing new tactic: 'Three-block war'
Derelict power plant becomes insurgent stronghold
Latest from Iraq
U.S. military deaths
Latest war video reports
Talk about war
-->
WASHINGTON — As the nation commemorates the fourth anniversary of the Iraq war, a convincing argument can be made that Texas has contributed more troops and paid a higher price in blood than any other large state — and by a fairly wide margin.
More Texans have served in Iraq and Afghanistan than residents of any other state. Defense Department statistics list 160,100 active-duty service members and 23,161 National Guard troops and reservists from Texas deployed in the wars. No breakdown is available for the number of troops who have served in Iraq.
And of the 3,210 American service members killed in Iraq as of this weekend, 298 called Texas home. Of those, 69 lived in the Houston area.
That meant Texas had a death rate for its troops of 6.7 per half-million residents, far more on a per capita basis than other large states. California, the only state with a larger population than Texas, has a rate of 4.7 per 500,000, and New York, just behind Texas in population, lists its war death rate as 3.7 per 500,000.
Many more Texans were wounded. Through late February, more than 2,200 of the 23,677 wounded in the war listed Texas as their home state, according to the latest statistics available from the Pentagon.
One of those Texas soldiers who paid a price in blood is Luis Rodriguez, a 27-year-old sergeant.
The sniper bullet that found Rodriguez while he patrolled the city of Ramadi in late December pierced the Houstonian's back, shattering his collar bone and burrowing through his lung before exiting. "It felt like someone punched me, then my arm felt like it was burning down to my elbow," the Stephen F. Austin High School graduate recalled. "The next thing I remember, I woke up in Walter Reed (Army Medical Center in Washington), and it was three days later, New Year's Eve."
The Iraq war began exacting a toll on Texans in the first morning of the invasion after U.S. troops invaded Iraq from Kuwait on March 19, 2003.
The war's initial casualty was Marine Staff Sgt. Eric Alva of San Antonio, now retired, who stepped on a mine and lost his leg in the opening hours of the invasion.
Texas also had the sad distinction of suffering the war's 3,000th death. Spc. Dustin R. Donica, 22, of Spring, was killed on New Year's Day 2007.
A new directionFor wounded Texans, the experiences have run the gamut.
Rodriguez was struck by a bullet Dec. 28 while his unit with the 1st Armored Division worked near an Iraqi police station.
"I never heard the shot," he said, but reckoned that it came from a sniper at least a couple of hundred yards away. "I believe he was trying to make a head shot and didn't adjust for the wind."
Rodriguez, who said he has a large family that extends from Houston into Mexico, joined the Army after graduating from high school and working as a mechanic.
When Rodriguez's physical rehabilitation is complete and he regains some of the 32 pounds carved off his formerly 185-pound frame by the injury, he intends to leave the Army and use his education benefits to train as a mechanical engineer. He insisted the decision was not a result of serving two tours in Iraq or even suffering a severe wound.
"That was my plan all along," Rodriguez said. "I never saw myself as a lifer. I saw the Army as a steppingstone."
He won't be the first among his circle of friends to leave the service.
"After our first deployment lasted 15 months," he said, "most guys were saying 'uh-uh' to re-enlistment. I decided to do another tour, but I was one of a small number to do that."
The deaths of some Texas soldiers in Iraq have made headlines and illustrated the vagaries of a war fought for the most part without set-piece battles, front lines or rear areas.
During his 2005 State of the Union address, President Bush mentioned the heroics of Sgt. Byron W. Norwood of Pflugerville, near Austin. Norwood was killed Nov. 13, 2004, when he was shot by a sniper in Fallujah while saving the lives of seven Marines trapped by insurgents in a building, according to his fellow Marines. Norwood's parents, Janet and Bill Norwood, sat with first lady Laura Bush during the speech.
A Houston soldier, Pvt. Kristian Menchaca, was a victim in one of the war's most horrific episodes when he and another enlisted man were captured, tortured and killed by insurgents in June 2006.
The death in January of Staff Sgt. Hector Leija of Raymondville has raised issues about the clash between the media's war coverage and the privacy rights of a soldier and his family.
Leija's death unfolded under the eyes of two New York Times journalists. The newspaper published photographs of a dying Leija and posted on its Web site video of an interview with the soldier recorded just before he was mortally wounded. The Times later wrote the family a letter expressing "regret that the family suffered distress," according to a statement by the newspaper.
Cities feeling the bruntAlthough the war has been fought by a relatively small number of Americans who volunteered for active-duty military service or for the National Guard, many cities in Texas have felt a disproportionate impact.
From Killeen, the Central Texas home to Fort Hood, one of the Army's largest bases, the 4th Infantry and 1st Cavalry divisions have each deployed twice to Iraq.
Willie Browning, a volunteer with the Disabled American Veterans in Killeen, sees the toll of war at Fort Hood.
"Some of these men are ambulatory but still severely wounded," Browning said. "I have seen guys with closed head wounds, shrapnel still in their heads."
Browning works with soldiers who have had trouble adjusting, not just to their wounds but to the administrative and emotional challenges of suffering an injury during combat.
While not critical of the Veterans Administration's treatment of returning soldiers overall, Browning said, "some people fall through the cracks."
"Most of the frustration I see is with the bureaucracy people face in separating from the Army. Among the ambulatory wounded, there is more administrative frustration than medical frustration."
People in San Antonio, home to Fort Sam Houston and the Brooke Army Medical Center, also have seen a lot of the war's fallout.
Tammy Edwards has spent nearly two years in and around the medical center since her husband arrived there soon after he was severely injured in April 2005.
Army Staff Sgt. Christopher Edwards suffered third-degree burns over 79 percent of his body after a 500-pound bomb exploded under a Bradley Fighting Vehicle in which he was riding.
Tammy Edwards now works as a research assistant for the Geneva Foundation, chronicling the effects of injuries at Brooke. Bush recently named her to the federal commission created to review military medical care after recent disclosures of serious problems with the long-term care of wounded soldiers at Walter Reed.
"It hasn't been negligent by any means, but I feel like it could have been better organized," she said, speaking of her husband's care.
For example, she said that the psychological aspects of a severe injury aren't integrated into the overall treatment.
"They spend a lot of time convincing these guys that they are tough, and that they shouldn't have mental problems associated with their wounds," she said. "So then, when they are asked if they do have mental problems, they say no."
Stress of multiple toursMany service members who have returned to the United States from combat, and their families, come under increased stress because they are likely to deploy to the wars again, perhaps after just a short time.
Perry Jefferies, a Texas official with the Iraq Afghanistan Veterans Association, said the biggest strain he has seen in Texas has been the high deployment rate of the state National Guard — not just the thousands of troops who have gone to Iraq and Afghanistan but those activated for peacekeeping duties in Kosovo, Bosnia and other hotspots to free up combat forces.
"I've got a buddy in the Guard who went to Kosovo in '01, Afghanistan in '02, Iraq in '04, and they were looking to send him to Egypt in '05," said Jefferies, who served in Iraq as a first sergeant in 2003 before retiring from the Army.
Jefferies said his friend got out of the Guard and joined the Army. "He told me, 'I'll spend more time in the States if I go active-duty,' " Jefferies said.
Where is his friend now? "He's back in Iraq with the 1st Cavalry Division," Jefferies said.
For some, injury in
Iraq has been a catalyst to a different life.
Jose Ramos of El Paso lost an arm in Iraq's Anbar province while serving his second tour as a Navy medic in 2004.
He has since enrolled at George Mason University in northern Virginia and is studying international affairs while minoring in Islamic studies and Arabic courses. Last week, he was named to the presidential panel investigating the care at Walter Reed and other facilities.
Ramos said the decision to study Islam and Arabic was part of a goal to "make a difference." He said he is not sure exactly what that means yet.
But Ramos is among those troops whose old life ended after seeing combat in Iraq. They now face an altered future.
mike.hedges@chron.com
Labels: Texas= leads in casualties
Subscribe to Posts [Atom]