Wednesday, March 07, 2007
America's Homeless Veterans; a National Disgrace
And trillions of $$ on more wars to create more dead, maimed, and mentally wounded veterans?
>>>>>>>>>>>>
http://www.msnbc.msn.com/id/17315490/site/newsweek
Vets on the Street
Hundreds of U.S. soldiers returning from Iraq and Afghanistan are ending up homeless. How could this happen?
Charles Ommanney / Getty Images for Newsweek
A homeless veteran lies on a bed at New Directions, a private nonprofit residential and substance-abuse program for homeless veterans in Los Angeles
View related photos
•
PTSD: For Social Workers, the Price of Caring
•
Housing for homeless vets, low income residents opens
•
Mental disorders plague many vets
By Sarah Childress
Newsweek
Updated: 1:41 p.m. CT Feb 24, 2007
Feb. 24, 2007 - Kevin Felty came back from Iraq in 2003 with nowhere to stay, and not enough money to rent an apartment. He and his wife of four years moved in with his sister in Florida, but the couple quickly overstayed their welcome. Jobless and wrestling with what he later learned was posttraumatic stress disorder (PTSD), Felty suddenly found himself scrambling to find a place for himself and his wife, who was six-months pregnant. They found their way to a shelter for homeless veterans, which supported his wife during her pregnancy and helped Felty get counseling and find a job. A year later, he's finally thinking his future. "I don't want to say this is exactly where I want to be—it's really not," he says. "But it's what I can get at the moment."
Young, alienated and often living on their own for the first time, Iraq and Afghanistan veterans increasingly are coming home to find that they don't have one. Already, nearly 200,000 veterans—many from the Vietnam War—sleep on the streets every night, according to the Department of Veterans Affairs.
But young warriors just back from the Mideast—estimated around 500 to 1,000—are beginning to struggle with homelessness too. Drinking or using drugs to cope with PTSD, they can lose their job and the support of family and friends, and start a downward spiral to the streets. Their tough military mentality can make them less likely to seek help. Advocates say it can take five to eight years for a veteran to exhaust their financial resources and housing options, so they expect the number to rise exponentially in a few years. "Rather than wait for the tsunami, we should be doing something now," says Cheryl Beversdorf, president of the National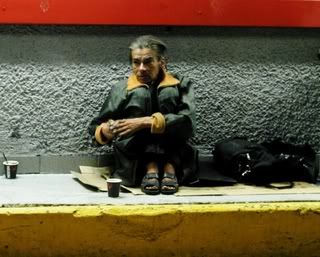 Coalition for Homeless Veterans.
The problem is mainly a lack of resources, advocates say. There are only about 15,000 beds available in VA-funded shelters or hospitals nationwide, and nearly every one is taken. In some smaller cities there simply aren't many places for a homeless veteran to go. And as affordable housing units shrink nationwide, veterans living on a disability check of, say, $700 a month, (which means a 50-percent disability rating from the VA), are hard-pressed to find a place to live. Most shelters require veterans to participate in a rehabilitation program, but a "fair amount" of veterans just go back to the streets once they leave, says Ed Quill, director of external affairs at Volunteers of America, the nonprofit housing group for veterans that helped Felty.

Charles Ommanney / Getty Images for Newsweek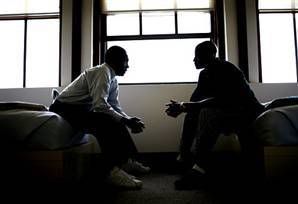 Two homeless vets share their stories in the dorm at New Directions in L.A.
The VA says it's making a concerted effort to reach out to vets before they hit bottom, says Pete Dougherty, the VA's coordinator for homeless programs. Intake counselors are trained to ask questions, especially of newer veterans, to seek out mental health or other problems that could lead to homelessness. "We're much more sensitive than we were 40 years ago for signs of problems," he says. And they have expanded some services. Last week, the VA approved $24 million to boost aid for the homeless, which will allow them to add about 1,000 more beds and increase the number of grants to help the growing population of homeless women veterans and those with mental illnesses.
Much of the work with new veterans is being done one soldier at a time. At New Directions in Los Angeles, a center that rehabilitates homeless veterans, Anthony Belcher, a formerly homeless Vietnam vet who now works at the center, looks out for one particular Iraq veteran who shows up at the center about once a month, filthy, drugged out and tortured by PTSD. "He's a baby," Belcher says. "You can see it in his eyes." So far, the young vet is too wary to accept more than a night's bed or a hot meal. But as Belcher says, at least he has a place to go. That's more than many of the thousands of vets on America's streets can say tonight.
© 2007 Newsweek, Inc.
>>>>>>>>>>
http://www.time.com/time/magazine/article/0,9171,1015909,00.html
excerpt from article Jan.2005:
But with so many deployed in a war that could be psychologically scarring, homeless shelters are bracing for an influx of returning soldiers. And advocates fret that if the problem grows, resources may not: the federal budget has cut funds for veterans' housing two years in a row. --By Julie Rawe. Reported by Jeffrey Ressner and Amanda Bower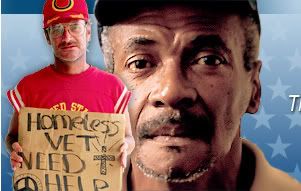 >>>>>>>>>>>
HOMELESS VETERANS TO BE FOCUS OF THURSDAY'S HEARING
March 14, 2006
Media contact: Jeff Schrade (202)224-9093
(Washington, DC) A hearing to examine homelessness among military veterans will be held Thursday, March 16, by the U.S. Senate Committee on Veterans' Affairs, Chairman Larry Craig announced today. The hearing, titled, "Looking At Our Homeless Veterans Programs: How Effective Are They?" will begin at 10 a.m. Eastern in room 418 of the Russell Senate Office Building.
Thursday's hearing will be webcast live, and archived for viewing later, at
http://veterans.senate.gov
. The hearing may also be audiocast – during the hearing only – on C-SPAN's hearings website, located at http://www.capitolhearings.org.
Federal officials estimate that on any given night, approximately 250,000 veterans go homeless, which is about one percent of the nation's 24.5 million veterans. But veterans represent a disproportionate number within the homeless population of America – one of every three homeless adult males has served in the U.S. Armed Forces.
To address this problem, the U.S. Department of Veterans Affairs and other federal agencies offer a wide variety of programs to help provide shelter and employment for homeless veterans.
Two bills have recently been offered to address the homeless veteran situation: S. 1180, the Sheltering All Veterans Everywhere Act, offered by Sen. Barack Obama (D-Illinois), and S. 1991, the Services to Prevent Veterans Homelessness Act, offered by Sen. Richard Burr (R-North Carolina).
Panel I
Peter H. Dougherty, VA Director, Office of Homeless Veterans Programs, accompanied by:
--Paul E. Smits, Associate Chief Consultant, Homeless and Residential Rehabilitation and Treatment Programs, U.S. Department of Veterans Affairs
-- Roger Casey, Director, Homeless Providers Grant and Per Diem Program, U.S. Department of Veterans Affairs
-- The Honorable Charles S. Ciccolella, Assistant Secretary for Veterans' Employment and Training, U.S. Department of Labor
Philip Mangano, Executive Director, Interagency Council on Homelessness
Panel II
Michael Blecker, Executive Director, Swords to Plowshares, San Francisco, California, representing the National Coalition of Homeless Veterans
Alan Belcher, Cornerstone Counseling/Transitional Living Services, Woodstock, Illinois
Tim Cantwell, Manager, Cloudbreak Development, LLC, a special needs housing developer which is the largest provider of services to homeless veterans in the country.
>>>>>>>>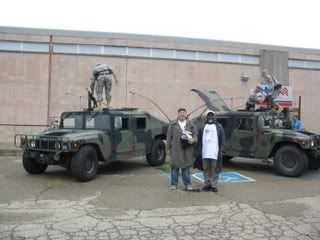 Photoslide of Stand Down for Homeless Vets
>>>>>>>>
Photoslide of Motorcycle Ride for Homeless Vets -HVAF 2006
>>>>>>>>>
Labels: veterans medical care - homeless
Subscribe to Posts [Atom]