Friday, March 23, 2007
Honor and Support ALL our Veterans at All Times
From: America in Uniform; Belief Net
The poem, "The Parade," is an original work by subscriber Sherrod L. Fielden. It has also been published under the title "The Veteran" and we think it is great. Check out other poems by Sherrod at
http://www.CowboyPoetry.com/slf.htm
.
THE PARADE
By Sherrod L. Fielden
The parade is forming two blocks away,
A small-town acknowledgment of Veteran's Day.
The high school band standing in ranks,
Ready to march, showing their thanks.
Floats in a line, ready to go.
Children to ride them -- faces aglow.
Parade Marshall reminding, "Keep your pace steady.
"Horses and riders all at the ready.
Meanwhile, just two blocks down the street,
Veterans to be honored, shuffle tired old feet.
Some using canes and a walker or two,
Gray hair under VFW caps of blue.
Out in front for all to see,
Old Glory floats on the gentle breeze.
Dim eyes light up with anticipation,
As the colors are posted for our nation.
Each veteran stands as straight as he can,
To salute this proud symbol of our land.
One in a wheel chair, close to the street,
Can't stand at all -- he has no feet.
They were left in a mine field in forty-five;
But, he counts it a blessing he got out alive.
A few of his buddies were buried right there.
So he made a life getting 'round in that chair.
He sits at attention and salutes with the rest,
Knowing he was willing and gave it his best.
If you see a tear in those old eyes,
It's just liquid pride under November skies.
Don't run down our nation where he can hear,
Because he knows the price it cost to get here.
Be as proud as he is and give him a wave.
He's just one of many who gave and gave.
Enjoy the parade, it's been paid for
By the men and women who marched off to war;
Then go on home and say a prayer
For all our veterans --- they still care.
I have posted the above photo before and will probably post it again. It is a poignant reminder of the cost of war and what we as a nation owe our warriors. This old veteran of WWII Pearl Harbor and the young Iraqi War marine symbolize the generations of men and women who have gone off to war at the behest of our government, served honorably and well, and all too often were ignored once their service was completed.
Honor and Support ALL our warriors at ALL times, not just on Veterans Days once a year
Injured Marine at hospital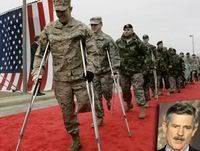 Injured Soldiers
It is our duty and responsibility to hound our representatives to hold the administration's feet to the fire and DEMAND that our fighting troops receive proper training for serving in an alien land, to receive all the proper equipment and materials needed to survive, and to receive every bit of proper care they require when wounded. AND DEMAND that these wars for empire and control of earth's resources be ended and efforts made to establish PEACE between the nations.
Labels: Honor and Support Troops and Veterans
Subscribe to Posts [Atom]