Monday, March 19, 2007
Memorial to the Fallen- Pasadena, Texas
Marty on the Homefront is very involved in prace activism and veterans' issues. She participated in the Memorial for Iraq War Veterans in Pasadena, Texas.
March 15, 2007, 8:29AM
Fallen soldiers to be honored
Strawberry Park set to display 3,200 flags in memory of those killed in the Iraq war
By CAROL CHRISTIANCopyright 2007 Houston Chronicle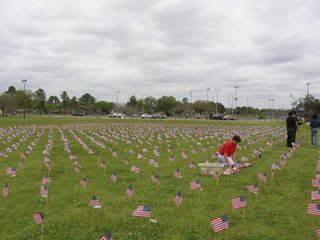 Photo by Marty On The Homefront
Marty was one of the volunteers to set out all these flags in display.
A flag display in memory of those killed in the Iraq war opens Sunday in Pasadena's Strawberry Park.
The display, at Lafferty and Parkside streets, will be similar to a January exhibit in Houston's Memorial Park, said Mikal Hutto, a Pasadena resident and representative of the Houston Chapter of Military Families Speak Out.
Hutto and other members of the Military Families group are organizing the Pasadena flag display with the help of the Houston chapter of Veterans for Peace. Both groups are opposed to the war in Iraq.
This exhibit will include more flags than did the one in January because additional casualties have occurred in the past two months.
The two sponsoring groups are inviting volunteers to help place nearly 3,200 flags in memory of U.S. military personnel killed in Iraq and about 160 private contractors who have died in the conflict, Hutto said.
Scheduled to end March 25, the display is intended to mark the fourth anniversary of the war's start on March 19, 2003, Hutto said.
"We think people should realize the devastation this war is causing and honor these people who have died in this war," said the Pasadena retiree whose son is a U.S. Army career soldier and served a year in Iraq.
Each U.S. resident who has died in Iraq will be commemorated with a 5 1/2 -inch-by-8 1/2 -inch U.S. flag on an 18-inch wooden stick. The stick also will have a tag bearing the person's name, age, military rank if applicable, home town and the date and circumstances of death.
Each day at dusk, an automatic bugle will play "Taps."
Within the 40,000-square-foot display, a separate section will be dedicated to more than 300 Texans who have died in the war.
Hutto's husband, Keith Hutto, and Jim Rine, president of Houston Veterans for Peace, last month asked the Pasadena City Council to pass a resolution allowing the flag display in Strawberry Park. Mikal Hutto said the men made the request at the direction of a city staff member.
But Mike Isermann, mayoral assistant for education and leisure activities, said last week he had determined it wasn't necessary for the groups to get formal permission.
"It wasn't something that needed approval by the council," Isermann said. "It's a public park."
Judging by the public reaction to the Houston display in January, Hutto said most people respond with deep respect and emotion. Many visitors were veterans.
"One (veteran) spent hours just reading all the names," she recalled. "I asked him, 'Are you looking for someone?' He said, 'No, I just want to know these people.'
"I asked him if he had lost buddies (in combat)," Hutto said. "He said, 'No. I'm just a veteran.' "
carol.christian@chron.com
>>>>>>>>>>>>>>>>>>>>>>
Houston & Texas News
-->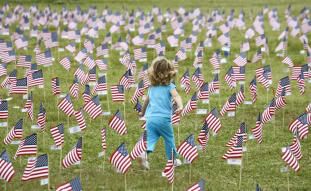 Dakota Hauff runs across Strawberry Park in Pasadena today. Flags representing all American servicemen and servicewomen killed in the Iraq War were placed today in ordered rows commemorating the fourth anniversary of the start of the conflict.
Steve Ueckert: Houston Chronicle
March 18, 2007, 5:31PM
Flags placed in Pasadena to honor fallen soldiers
By JENNIFER LEAHY
Copyright 2007 Houston Chronicle
Armed with a desire to honor the more than 3,200 service members killed in the war in Iraq, dozens of volunteers at Pasadena's Strawberry Park today placed American flags bearing the names, ages, battalions, branches and hometowns of the fallen.
Mother, fathers, sisters, brothers, veterans, and strangers converged on the park today, the fourth anniversary of the beginning of the war in Iraq.
Sherry Glover, wife of a Vietnam veteran and the mother of an Army veteran, volunteered to help arrange the flags.
"We're doing this regardless of any political affiliation," Glover said. "This is about creating a visual image of those who have died, and the families who have made the ultimate sacrifice."
Though most flags are arranged in chronological lots, there is a separate area for Texas soldiers who have died. They are commemorated by a Texas as well as an American flag.
[article about Texas soldiers, in post above and at:
http://chron.com/disp/story.mpl/nation/4640420
.html
Yet another section honors those who have taken their own lives after returning from the war.
[ see:
http://msnbc.msn.com/id/16288076
or post above "Army Suicides Double"]
"This is another aspect that people don't think about — there are thousands of others who survived the actual war who have battles ahead when they return home," Glover said.
The flags will remain in place until March 25. Each evening at dusk taps will be played and flags for any new fallen soldiers will be placed in the ground.
Jim Rine, a member of Veterans for Peace and one of the event's organizers, hopes to "educate fellow citizens on the cost of war."
Funds to purchase the flags were donated by various local clubs, military families, and religious organizations.
Though the display has been mounted in Houston's Memorial Park, and will be again over the Memorial Day weekend, Pasadena resident Mikal Hutto lobbied to bring the display to her area.
"This is a very conservative area and I wanted to bring our message here. We all want to avoid these horrendous losses of humanity," Hutto said, gesturing to the flags waving in the wind.
"This is a very cathartic experience that comes to a real crescendo. When you start planning there is the worry, then the energy as you set it up, but when you get all of the flags in the ground it just hits you. It's so sad," said Hutto, whose son is a career member of the Army.
Connie and Al Meraz, whose home faces the park, expressed support for the display.
"It's really nice. I hope it will bring the community together," said Al Meraz, an Army veteran.
Hutto hopes that people of all political persuasions will appreciate the display.
"I don't want people to think that this is just a bunch of old hippies out here. I want them to realize that this is a group of people of all ages, ethnic backgrounds, and political beliefs," Hutto said.

jennifer.leahy@chron.com
Labels: Memorial to Fallen - 4th yr. of war
Subscribe to Posts [Atom]