Monday, March 05, 2007
Where Does The Blame TRULY Lie?
Fingers of blame are being pointed. Scapegoat heads are rolling, including one poor sucker who had been on the job only a few months, even though the conditions were present for years before he was placed in charge.
Bush orders an investigation; Congress gets all wild eyed and excited and make headlines decrying the disgrace, even though veterans and soldiers had been complaining to them for years. Only when journalists publically broke the scandal did anyone pay attention.
I live in an apartment building reserved for the elderly and handicapped. The residents here too young to be of retirement age are those individuals who suffer some sort of handicap. Some residents are WWII veterans, Korean War veterans and Vietnam War veterans. The two latter categories are the "youngsters" . Last year, in 2006, the VA FINALLY offered treatment for the Vietnam War vets suffering from PTSD!! One of my good neighbors down the hall on my wing received treatment and his veterans benefits were increased for his disability, a sufficient raise that he was above the income limit to qualify to live here and moved to a private rental apartment.
I do not know the date of Leo's service, but the Vietnam War was over in 1975. 1975, or before when he suffered his PTSD disability, to 2006 before he received treatment and proper disability pay ! A shame, a disgrace and an outrage.
Partial timeline for Vietnam war:
http://www.historyplace.com/unitedstates/vietnam/index-1969.html
History of Vietnam War and US involvement:
http://en.wikipedia.org/wiki/Vietnam_War
Must today's warriors wait as long?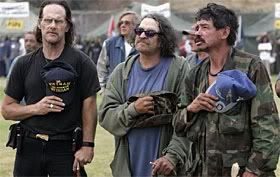 Vietnam War veterans at a California Stand Down. These veterans show proper respect when the National Anthem is played, in spite of the disgraceful neglect and maltreatment they have suffered. Far more than many civilians I have observed during the playing of the National Anthem who chatted, strolled around, purchased snacks and in general ignored their duty to our anthem.
And who is truly to blame for the lack of funds for our veterans' care? Take your pick.
Search Results
11 - 20 of about 743,000 for
number
of
cuts
to
veterans
benefits
during
Bush
administration
- 0.13 sec. (
About this page
)
WEB RESULTS
The Democratic Party
... why the Bush Administration has failed to fully fund veterans benefits for the ... of a backdrop of troops whose pay and benefits he has consistently tried ...www.democrats.org/a/communities/veterans_and_military_families - 93k -
Cached
-
More from this site
USATODAY.com - Plan to raise vet fees hits wall of opposition
... than raising taxes or fees is cutting veterans' benefits in wartime. ... message the Bush administration sent to leaders in Congress on veterans' issues. ...www.usatoday.com/news/washington/2005-07-06-veterans-health_x.htm - 60k -
Cached
-
More from this site
USSVI - VETERANS' NEWS
... provision of the new Veterans' Housing Opportunity and Benefits Act of ... to reject a Bush administration plan to increase health care fees for veterans. ...www.ussvi.org/veterans/top.htm - 39k -
Cached
-
More from this site
Democratic Policy Committee
... of increasing claims, President Bush has proposed cuts to the veterans ... shows the number of full-time employees cut by the Bush Administration in each ...democrats.senate.gov/~dpc/pubs/108-2-064.html - 12k -
Cached
-
More from this site
Veterans Betrayed by Bush
... Veterans betrayed by the Bush Administration. Sent to war based on lies and deception,disability benefits attempted ... to benefits for a large number of ...www.dove777.com/Veterans.htm - 18k -
Cached
-
More from this site
Indignities Endured by U.S. Military Veterans - BuzzFlash News Analysis
... Bush administration to cut or hold down growth in pay and benefits, including ... considered by the Bush administration to shrink the number of military personnel ...www.buzzflash.com/analysis/03/11/ana03304.html - 117k -
Cached
-
More from this site
Think Progress " Bush wants cuts to veterans' health care.
At what point will they cut widow/widowers benefits? Theresa ... numbers of wounded and injured veterans seeking care, the Bush administration ...thinkprogress.org/2007/02/12/bush-wants-cuts-to-veterans-health-care - 84k -
Cached
-
More from this site
The Bulletin Online - Supporting Our Troops - Veterans Day 2006
... budget requests, the Bush administration has constantly resisted Congressional demands to increase the number of VA staffers processing such claims. ...www.thebulletin.com/archives/2006/november/veteransday2006.htm - 28k -
Cached
-
More from this site
Stand Up for Our Veterans Petition
According to the Veteran's Administration, 28 million veterans are ... Bush Administration funding cuts will also prevent veterans from receiving their ...www.petitiononline.com/Veterans/petition.html - 37k -
Cached
-
More from this site
Cut Vets Benefits Veterans' Disability Benefits Commission
Bush Administration Out in Full Force, Thanking Veterans, Setting Sighting Sights On The Future ... For a number of hours, we had to fight off the ...www.americans-working-together.com/american_veterans/id61.html - 403k -
Cached
-
More from this site
Labels: veterans medical care - benefits-cuts
Subscribe to Posts [Atom]