Wednesday, January 02, 2008
Gene- 4th tod
Cross posted from Is America Burning
Wednesday, January 02, 2008
Worried's Family News - 2
Our New Year has not had a happy beginning but we are thinking positively and praying for the best. Bush's war mongers are going for a fourth bite at the apple with my grandson, Gene, just as they have for so many of America's sons and daughters who have served in Bush's miserable wars. As long as they are not maimed nor killed and remain serviceable, back they go to the wars.
Gene came home from his last tour of duty in Iraq suffering from PTSD, stomach trouble so bad he was vomiting blood, and other physical disorders. The Army psychiatrist said he did not suffer from PTSD but mere "combat stress". My limited medical knowledge does not allow me to tell the difference between the two diagnoses, so I wonder, "What in the hell is the difference?"
He was scheduled for another tour of duty in Iraq but in view of his psychological and physical health issues, the Army showed mercy and re-posted him for Afghanistan instead of Iraq.
He flies out to Afghanistan at 11:00 A.M. today for a 15 month tour of duty. He has been promised that he MIGHT get an R&R states side in September, 2008.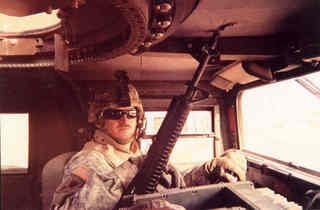 Gene on his second tour of duty in Iraq.
He leaves his wife, Monica, and three children, other victims of the wars.
Picklebee (Little Lloyd, our "littlest hero") and Drama Queen (Llacie). During Gene's last tour in Iraq, these two frequently cried for their Daddy and begged for him to come home.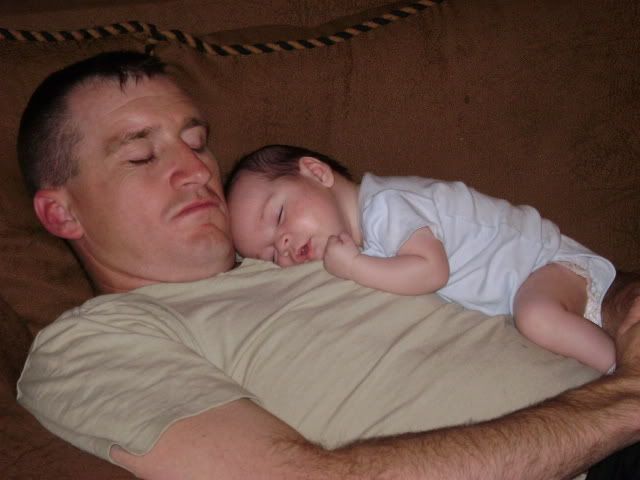 Gene and baby Llandon, born in September, 2007. IF he gets R&R in September of this year, Llandon will be a year old and will not know his father.
Gene called me tonight to say goodbye and I immediately called his mother, my daughter Jo. She laughed shakily and tried to joke that she was having a "mommy moment" but I could hear the stress in her voice. "Mommy moment" indeed. The Wild Child had an "auntie moment" I suppose; she began bawling her eyes out. The Family is distressed. We knew this was coming but it isn't any easier. Every generation of my family has had members who served in the military and some who died in combat. This is not a new experience for us, and this is Gene's fourth tour overseas. The fear and worry is always with us when he is gone. I am having some "grandma moments" also.
It is hard for all the members of my extended, closely knit family, but it is worse for Monica and the children, as with all the wives and offspring of military service people.
Please think positive thoughts for my dear grandson and ALL of our sons and daughters serving in Bush's horrid wars. If there is a hell, I hope Bush suffers the tortures of the damned for all eternity. I believe in forgiveness for those who have wronged us but I can find no forgiveness in my heart for the ones responsible for the maiming and deaths of our brave children who serve and for the terrible crimes inflicted upon civilian victims in foreign lands.
Comments:
Blogger betmo said...
forgiveness is for you not for the person or persons you are forgiving. i think that there are some folks who are unforgivable. positive thoughts and hugs to you and your family. i don't pray but my energy is with you.
Wednesday, January 02, 2008 7:22:00 AM
Blogger Paul said...
Best to you and yours – if only the current administration had one billionth of the patriotism of the folks actually doing the fighting, we wouldn't be there to begin with. On a lighter note: Our long national ventriloquist act will soon be over.
Wednesday, January 02, 2008 10:54:00 AM
Blogger Worried American said...
Thank you Betmo. The support of our blogger friends is a blessing and moral strength to each of us that have troubles. I know that the support of friends helped Granny Ann endure all the many problems she suffered this past year. What would we do without friends?
You are correct - forgiveness is for our own character and moral development, not for the evil doer. We can forgive and bless them on their way and it does not mean we must take them into our bosom. But the frailty of our human natures makes it difficult to forgive some wrong doers.
Paul: Thank you for visiting us and for your input. Please come back again. I agree with you about the patriotism of our fighting men and women and it is a horrible tragedy and injustice that the administration fails in that respect and merely uses these brave sons and daughters of America to further their own evil designs.
Hopefully the puppet/ventriloquist act will soon be over IF we elect a strong, honest president who can stand against the powerful regimes behind the scenes. The puppet masters are well entrenched and have a powerful system built up for many decades.
Re: Bush appointed by God. Not only does that fool appear to believe it but the Fundies have brainwashed the faithful to believe it also. See "No! No! Not the Fundies" post of 8/21/07 in our archives and scroll down to "Excerpted from:" section ( it is a LONG post). We can see how they interpret the scriptures to justify their position that God appoints even the most evil rulers so that they may exhort the faithful to be obedient sheeple no matter if they disapprove of policies.
Wednesday, January 02, 2008 12:54:00 PM
Blogger Mary said...
My thoughts and prayers are with your Grandson. 15mos and a 4th time? Freaking ridiculous.
Wednesday, January 02, 2008 4:25:00 PM
Blogger Worried American said...
Thank you Mary. I appreciate your thoughts and prayers. I think the posting is ridiculous and unfair, too, but the military has done the same to many, many of our service people.
Wednesday, January 02, 2008 10:29:00 PM
Labels: Gene deployed - AGAIN - for the 4th time
Labels: Gene-4th TOD
Subscribe to Posts [Atom]